AcuityAds Stock: The Illumin Platform Makes The Stock A Buy (NASDAQ:ATY)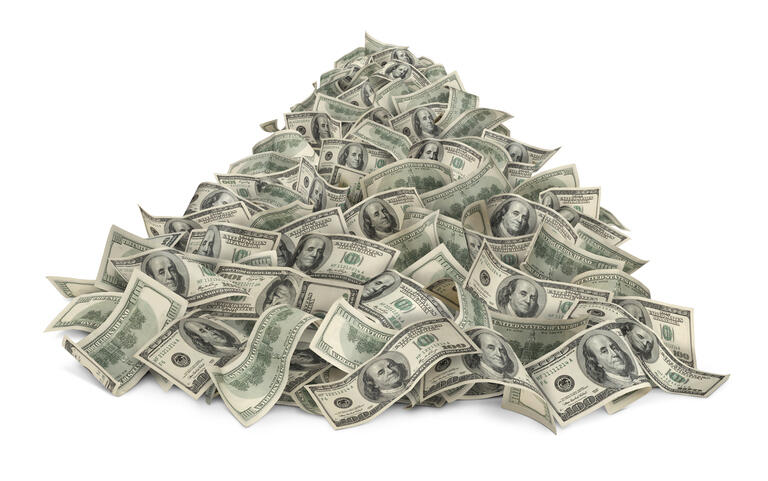 AcuityAds (NASDAQ:ATY) offers proprietary technology in a market that grows at a double-digit rate. In my view, with a significant amount of cash to finance more R&D and marketing expenses, ATY will most likely see an increase in its customer base. If management is also successful in the international markets, I would be expecting a fair price of CAD19.7. I don't believe that the current valuation of CAD3.4-CAD3.7 per share really represents the future cash flow. I will be buying shares.
AcuityAds Targets A Market That Grows At 33% Y/Y
Founded in 2009, AcuityAds offers automatic solutions to marketers willing to connect through clients across mobile, social, and online display advertising campaigns. I invite readers to have a look at the demo offered by ATY. The company offers a library of assets that help users enhance engagement, and increase customer reach. Many of the company's applications are driven by real-time analytics and proprietary artificial intelligence technology: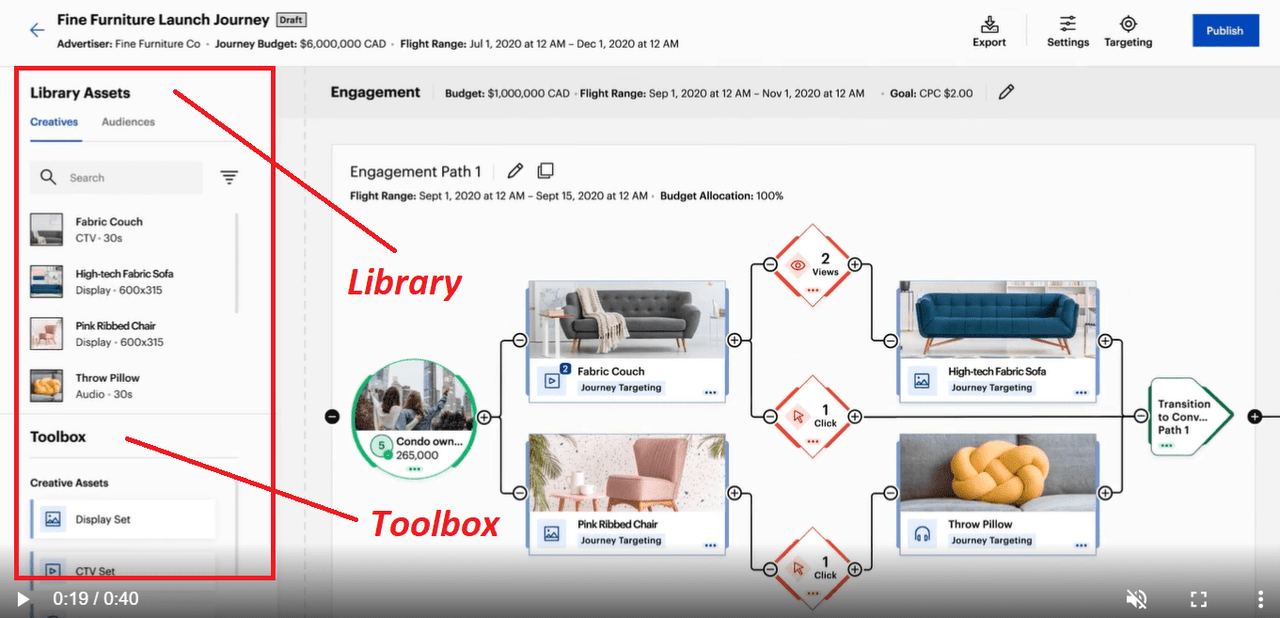 Clients receive significant information in real-time, including the number of individuals, who saw the campaign, and the number of clicks. Campaign managers can also have a look at the amount of money invested in each channel as well as the total marketing expenses: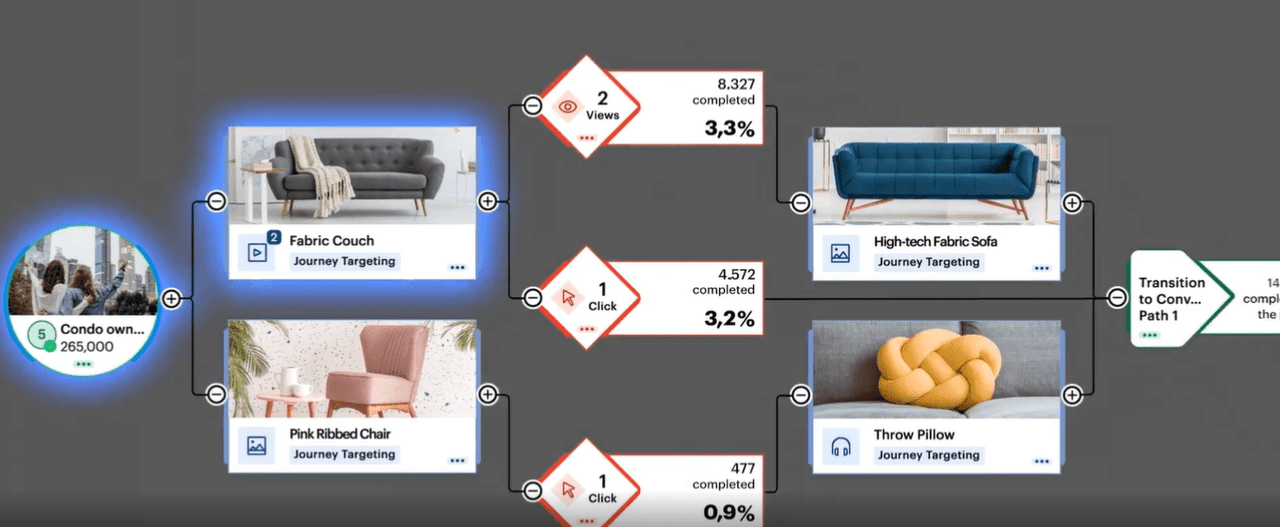 I believe that it is a great moment to have a look at the company's business model. According to Persistence Market Research the target market grows at a CAGR of close to 33%. If revenue growth is as elevated as expected, we could see significant value creation:
The global programmatic advertising market is estimated to be valued at nearly US$ 3,000 Mn by 2017 end and is projected to reach close to US$ 29,800 Mn by 2025 end. Sales revenue is expected to increase at a CAGR of 33.3% during the forecast period (2017–2025).
More Development Of The Company's Illumin Platform And International Expansion Could Lead To A Target Price Of CAD19.7
In 2020, the company launched Illumin platform. According to the company's F-10 filing with the SEC, management expects that this platform will most likely grow when more clients learn about the new features and automatic applications. As a result, I would be expecting an eventual increase in revenue growth:
The company intends to continue developing its Illumin platform to expand the scope of offerings within the platform as opportunities arise and enhance consumer experience. It also intends to expand the scope of prospective clients seeking a more intuitive and easy-to-use programmatic advertising solution.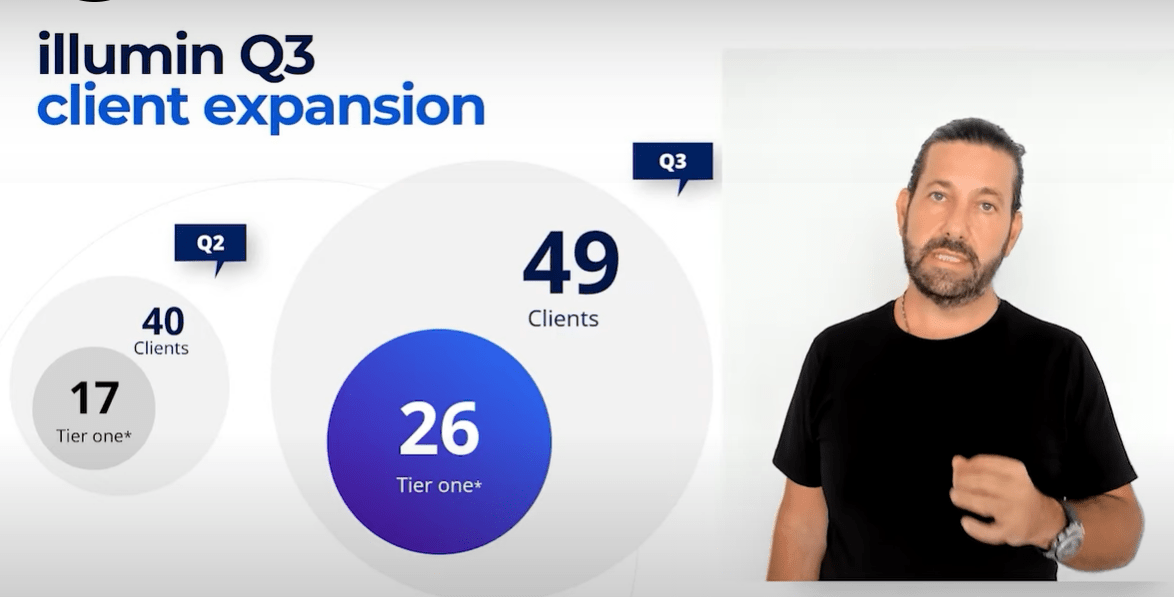 I also believe that more investments in research and development and marketing will lead to an increase in the customer base. In this regard, I would note that the company's investments in technology represent 70% of the figure invested in sales and marketing. In my opinion, if management continues to invest seriously in innovative products, more clients would most likely work with ATY:
Besides, I would be expecting further international expansion in Europe and Latin America. The company will most likely be growing organically. However, it is always good to remember that management has expertise in the M&A markets, and M&A transactions are among the strategic goals:
Our growth is attributable to both organic growth strategies and a selective approach to acquisition-based growth. We identify possible acquisition targets with a view to entering new but complementary markets and expanding our product and technology offerings. Source: F-10
With regards to the international expansion, let's note that I am not thinking out of the box. In the nine months ended September 30, 2021, the company reported close to 47% more in sales in Canada than that in the same period in 2020. In my view, the company's software is successful in the United States, so it will most likely be successful outside the US: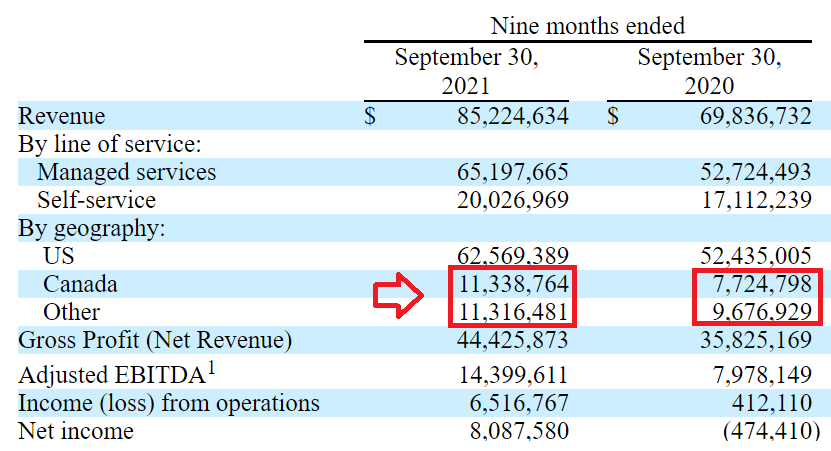 Under the previous assumptions, I included 20%-21% sales growth, which implied 2032 sales of CAD999 million. If we also use a CFO/Sales ratio of 21% and capital expenditures/sales of 5.07%, I obtained a free cash flow of CAD24.9-CAD158.4 million. If we also use a discount of 7.9%, the net present value of future free cash flow would imply CAD442 million:
My assumptions are close to the figures of other competitors. Peers are growing at a sales growth of 11%-127%. The CFO/Sales ratio stands at 10%-33%, and the capex/Sales figure is not far from 4%-5%: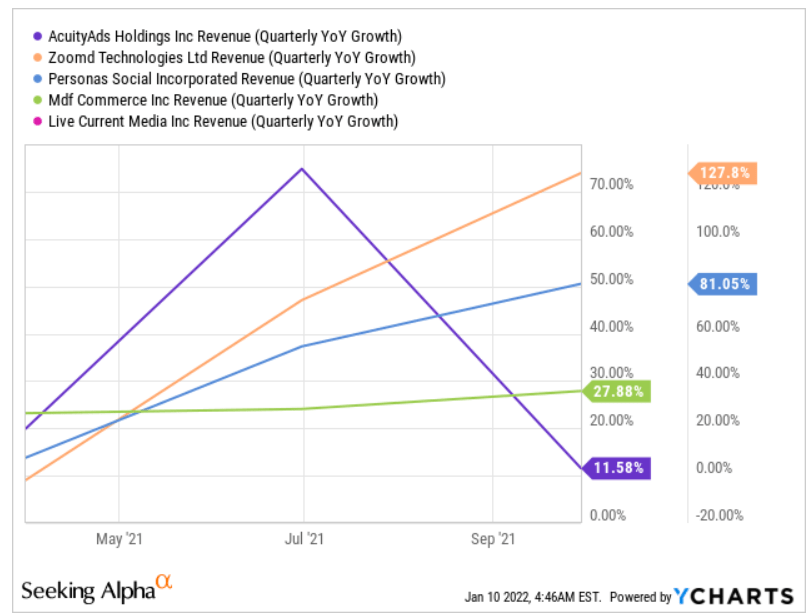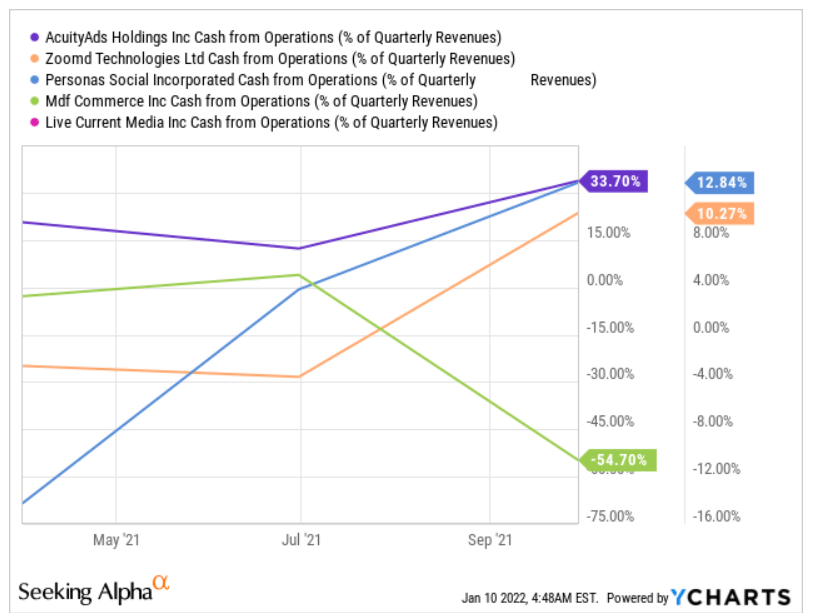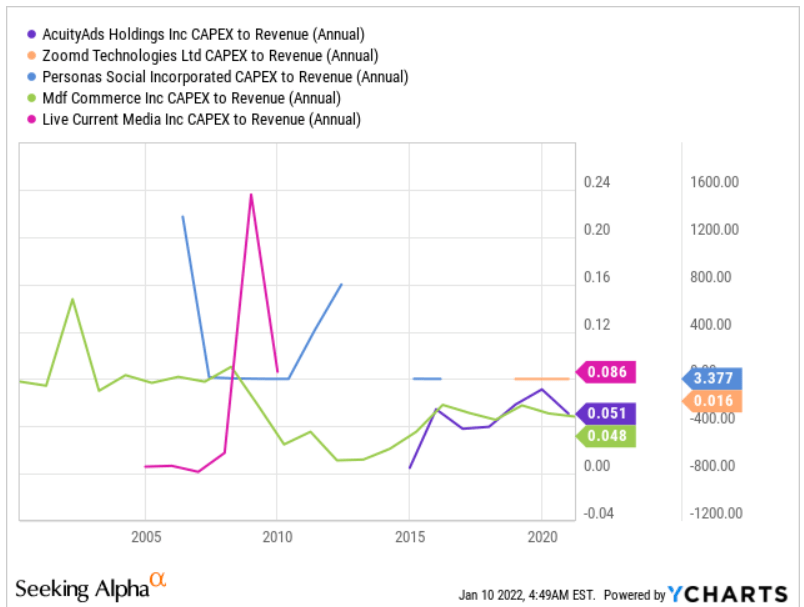 Notice that the WACC I used is close to that of peers. Competitors report a WACC of 7%-12%, so in my view, my discount of 7.9% appears reasonable. I am assuming a cost of equity of 8.10%, and a cost of debt of 6%:


The selection of the exit multiple was not easy. Peers report an EV/EBITDA ratio of 6x-167x, and many of them don't even report positive FCF. With this in mind, I decided to be very conservative in my EV/FCF exit multiple: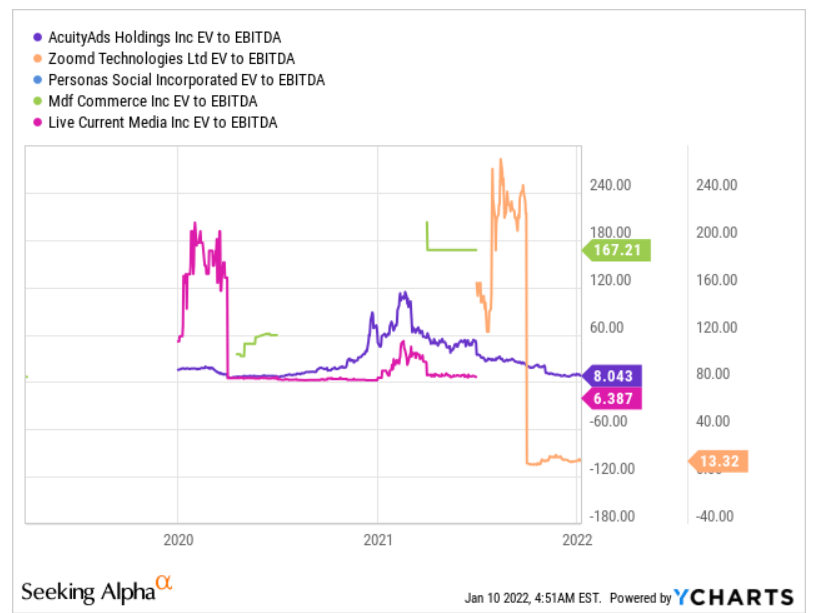 If we assume an exit multiple of 7x FCF and a market capitalization of CAD260 million, the implied target price would stay at $19.7. Note also that we would be talking about a very significant internal rate of return. In my view, under this case scenario, the company looks very cheap. Right now, traders are selling shares at CAD3-CAD5.1 per share.

I believe that my financial model is sensitive to changes in the discount and the exit multiple. With this in mind, I changed the WACC to 10%, and used an exit multiple of 3x FCF, which I believe is cheap. The results included a net present value of CAD385 million, an IRR of 26%, and a target price of CAD9.3:


Cash In Hand Is Growing
As of September 30, 2021, the company reported $100 million in cash, which is more than four times the cash in hand seen in 2020. In my view, investors are giving cash to the company to finance its operations: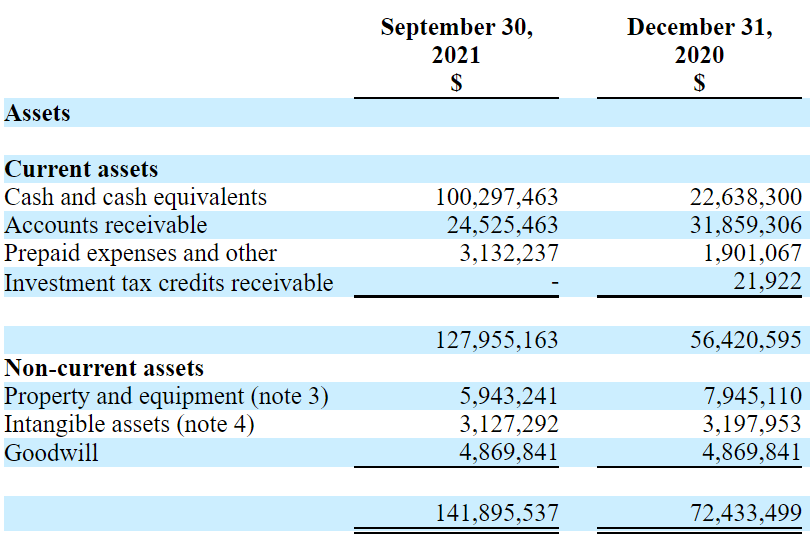 With only $5 million in cash and an asset/liability ratio of 1.8x, I believe that the company's financial shape is quite stable. In my opinion, if management talks to financial institutions to receive more loans, bankers will offer good financing terms: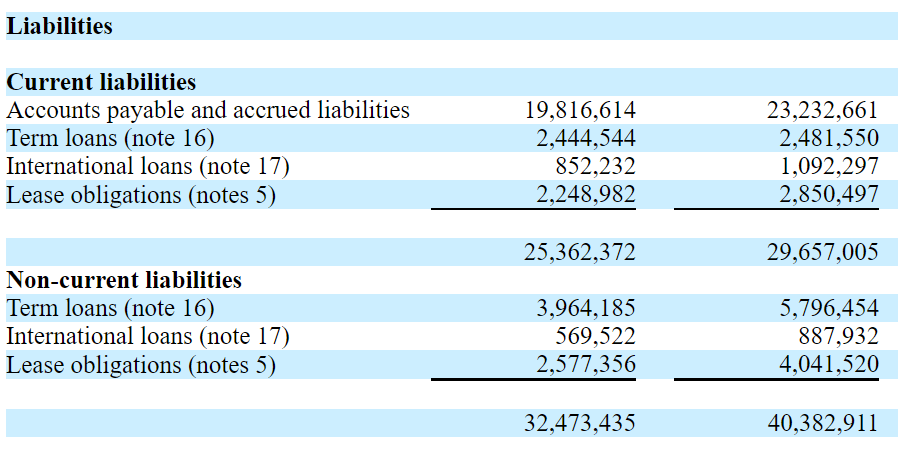 If The Programmatic Ad Buying Market Does Not Perform As Expected, And The Software Contains Errors, The Stock Price May Decline
I am quite concerned about the fact that ATY makes most of its revenue from a new market. I dislike that programmatic ad buying is an emerging market because we are not sure whether many new competitors will offer similar software soon. In this regard, the company warned about many future risks:
The market for programmatic ad buying is an emerging market, and our current and potential clients may not shift to programmatic ad buying from other buying methods as quickly as we expect, which would reduce our growth potential. If the market for programmatic ad buying deteriorates or develops more slowly than we expect, it could reduce demand for our platform, and our business, growth prospects, and financial condition would be adversely affected. Source: F-10
The artificial technology developed by ATY may contain defects. As a result, ATY may spend more money than expected in a given campaign, or marketing may not be as effective as planned. In this case scenario, I would expect lower sales than expected:
We use proprietary artificial intelligence algorithms in our product offerings to evaluate and process the consumer data that we gather. The continuous development, maintenance, and operation of our back-end data analytics engine is expensive and complex and may involve unforeseen difficulties, including material performance problems, undetected defects, or errors. Source: F-10
In the worst-case scenario, I would expect sales growth of 2.5% from 2022 to 2032, a CFO/Sales ratio of 15%, and a capital expenditures/Sales ratio of 5%. With a WACC of 25%, the net present value of the FCF would stay at close to CAD50 million:

If we also assume an exit multiple of 5x FCF, the IRR would be negative, and the target price would stay around CAD2.5-CAD3.5. In my view, in this case scenario, the downside risk does not seem that significant. Buyers are currently buying shares not far from the target price depicted here:

Some Risks: ATY Is Canadian Company, And The Merger Integrations May Not Work
Investors in the United States need to understand that they are buying shares of a company incorporated in a foreign jurisdiction. It means that ATY may be following Canadian corporate governance practices that may be against some U.S. securities laws. In this regard, investors may not have the same protection they receive in the United States. The company disclosed these risks in some of its corporate documents:
In addition, as a foreign private issuer, we have the option to follow certain Canadian corporate governance practices, except to the extent that such laws would be contrary to U.S. securities laws, and provided that we disclose the requirements we are not following and describe the Canadian practices we follow instead. We plan to rely on this exemption. As a result, our shareholders may not have the same protections afforded to shareholders of U.S. domestic companies that are subject to all U.S. corporate governance requirements. Source: F-10
In the last five years, AcuityAds acquired two companies and accounts for a significant amount of goodwill. If management can't make a successful M&A integration, or the assets acquired are less worthy than expected, the company may have to execute an impairment of intangible assets. As a result, I would expect a significant decline in the book value per share. The share price may decline:
AcuityAds completed the acquisition of ADman Interactive S.L.U ("ADman Media"), the largest video supply side platform for Spanish-speaking markets in Europe in Latin America, in June 2018. Source: F-10
On September 1, 2018, the Company acquired certain assets of Magnetic Media Online Holdings Inc. Source: F-10
Conclusion
ATY will most likely see sales growth as more clients learn about the Illumin platform, and management invests in international expansion. The company also has a lot of liquidity and a good financial shape to launch new offerings. Under normal circumstances, I believe that the fair price would stand at approximately CAD19.7. With traders selling shares at CAD3.4-CAD3.7, the stock looks cheap. Hence, I will be buying.