Crypto Flipsider News – Robinhood Tanks, SHIB Gains Muscles, DOGE Wins Hearts, David Lynch Starts NFT Series By DailyCoin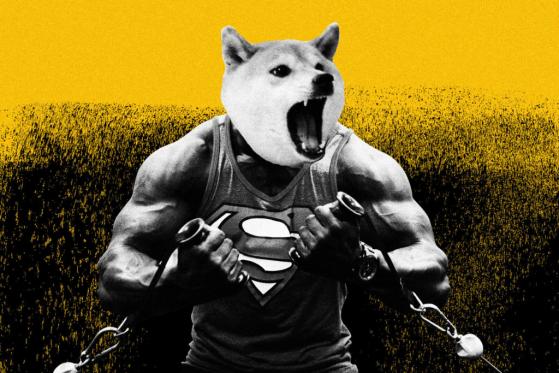 Crypto Flipsider News – Robinhood Tanks, SHIB Gains Muscles, DOGE Wins Hearts, David Lynch Starts NFT Series
Read in the Digest
Robinhood (NASDAQ:) Experiences Massive Revenue Drop in Q3, Shares Tank in Response
(SHIB) Jumps 27% Amidst Robinhood Rumors, 30% of Crypto Holders in the U.S. Own DOGE
U.S. Regulators Explore How Banks Could Deal with Crypto
Adobe (NASDAQ:) and David Lynch Embrace NFTs, the Economist Sells NFT for $420k
Robinhood Experiences Massive Revenue Drop in Q3, Shares Tank in Response
Financial service provider Robinhood has experienced a significant drop in its quarterly revenue generated from crypto trading. In Q3 of 2021, Robinhood's crypto-transaction-based revenue totaled $51 million.
In the previous quarter, Robinhood realized $233 million from crypto trading. In Q3, Robinhood's crypto transaction-based revenue dropped by more than 78%. Users have shifted away from , which made up 62% of Robinhood's Q2 crypto transaction volume.
Robinhood also experienced a drop in its monthly active users, from 21.3 million in Q2 to 18.9 million in Q3. Following the report, the Robinhood shares dropped by over 8% in 24 hours, dropping from $39.59 to $36.4.
There have been rumors about Robinhood listing Shiba Inu, and analysts believe it could be beneficial for both parties. A petition for Robinhood to list Shiba Inu (SHIB) has garnered over 333k signatures.
Flipsider:
Regardless of the drop in its revenue, the CEO of American firm Robinhood, Vlad Tenev, has announced that the waiting list to subscribe to the crypto wallet has exceeded one million customers
Why You Should Care
Despite the losses, Vlad Tenev disclosed that Q3 was about developing more products and services for their customers, including its upcoming crypto wallets.
Shiba Inu (SHIB) Jumps 27% Amidst Robinhood Rumors, 30% of Crypto Holders in the U.S. Own DOGE
The DOGE-killer, Shiba Inu, is experiencing a resurgence following a price drop sparked by the revelation that Tesla (NASDAQ:) CEO Musk doesn't own SHIB. The token has jumped by more than 27%, hitting a new all-time high of $0.0000594 on October 27.
The five-day price chart of Shiba Inu (SHIB). Source: Tradingview
The rally started after rumors that financial service provider Robinhood could list SHIB soon. A petition on Change.org that requests Robinhood list Shiba Inu has now garnered more than 333,000 signatures.
Dogecoin, the other meme coin that has received support from Elon Musk, has reached an outstanding feat. According to a new survey, almost one-third of all U.S. crypto holders now own Dogecoin (DOGE).
Finder reported that 30.6% of crypto owners in the U.S. own Dogecoin, which is 1.6 times the global average adoption rate of 19.2%.
Flipsider:
While supporting both cryptos, Musk has revealed he doesn't own SHIB and isn't working with the Dogecoin Foundation.
Why You Should Care
Starting out as meme coins, Shiba Inu and Dogecoin have remained resilient, keeping up with the trends of the crypto industry.
U.S. Regulators Exploring How Banks Could Deal with Crypto
Finally accepting that cryptocurrencies are here to stay, governments are developing frameworks to regulate the industry. In the United States, banking regulators are developing more precise guidelines for banks that deal with cryptocurrencies.
Chairman of the Federal Deposit Insurance Corporation (FDIC), Jelena McWilliams, has revealed that a roadmap is being developed for banks dealing with crypto. She opined that the nation needs "to allow banks in this space, while appropriately managing and mitigating risk."
She added that if crypto activities are not brought inside banks, they will go elsewhere, making it more difficult for federal regulators to monitor the industry.
Flipsider:
The Securities and Exchange Commission is gearing up to assert more regulatory control over stablecoins
Why You Should Care
There has been a lack of regulatory clarity as to how banks in the U.S. are to deal with crypto. This move could clarify how banks could hold cryptocurrencies in the future.
Adobe and David Lynch Embrace NFTs, the Economist Sells NFT for $420k
With the growing global interest in NFTs, the creator of the world's most popular digital creativity software, Adobe, has announced a "prepare as NFT" option. The feature, which will roll out in October's Photoshop update, will allow users to verify the credential metadata of NFTs.
Global news agency the Economist, has delved further into the NFT space, selling the NFT version of September's "Down the Rabbit Hole" for 99.9 ETH ($420,000). The edition told the story of "the beguiling promise of decentralized finance."
American filmmaker David Lynch has joined the bandwagon of celebrities issuing NFTs. Lynch has collaborated with the band Interpol in issuing a series of seven NFTs that are being offered via SuperRare.
Flipsider:
The money raised by The Economist from the sale of its NFT will be donated to its educational charity
Why You Should Care
Non-fungible tokens are growing in adoption and relevance. The ability to verify authenticity and origin have increased their importance in digital art.
EMAIL NEWSLETTER
Join to get the flipside of crypto
Upgrade your inbox and get our DailyCoin editors' picks 1x a week delivered straight to your inbox.
[contact-form-7 404 "Not Found"]
You can always unsubscribe with just 1 click.
Continue reading on DailyCoin