Greenidge Generation plummets alongside meme stock sector
NASDAQ:GREE fell by 22.47% on Monday as the global markets hit freefall.
With the merger completed, retail investors were kicked to the curb.
Meme stocks have another volatile session to start the week.
NASDAQ:GREE has not had the start retail investors were anticipating when it merged with Support.com last week. On Monday, shares of GREE took a tumble, dropping by 22.47% to close the volatile session at $30.78. The global markets plummeted on Monday with a handful of macroeconomic catalysts that hit investors all at once. The ongoing issues of China's second largest property manager, Evergrande, rocked Asian markets earlier in the day. Stateside, a key Federal Reserve meeting next week could shed more light on tapering, and the looming debt ceiling crisis is also weighing on the minds of investors. 
Stay up to speed with hot stocks' news!
Since the merger between the two companies is now complete, traders who were looking for another short squeeze from Support.com may have been kicked to the curb. Not only has shares of GREE fallen 46.0% over the past five days, but Support.com investors will receive a fraction of their amount of shares due to the ratio of GREE shares they will receive through the merger. Could the stock still see a short squeeze in the future? Anything is possible, but it remains unclear if retail investors will remain as dedicated to the stock as they were to Support.com. 
SPRT stock forecast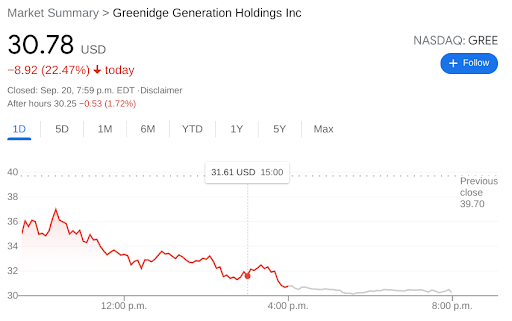 Volatility was the name of the game on Monday, as the broader markets sold off with conviction. As did the meme stock sector, highlighted by major losses by AMC (NYSE:AMC), GameStop (NYSE:GME), and ContextLogic (NASDAQ:WISH). SmileDirectClub (NASDAQ:SDC) was actually trading higher in the morning after an announcement on expansion into Europe, but still closed the day down by 3.13%.