Is FuelCell Energy (FCEL) A Good Stock To Buy Or Sell?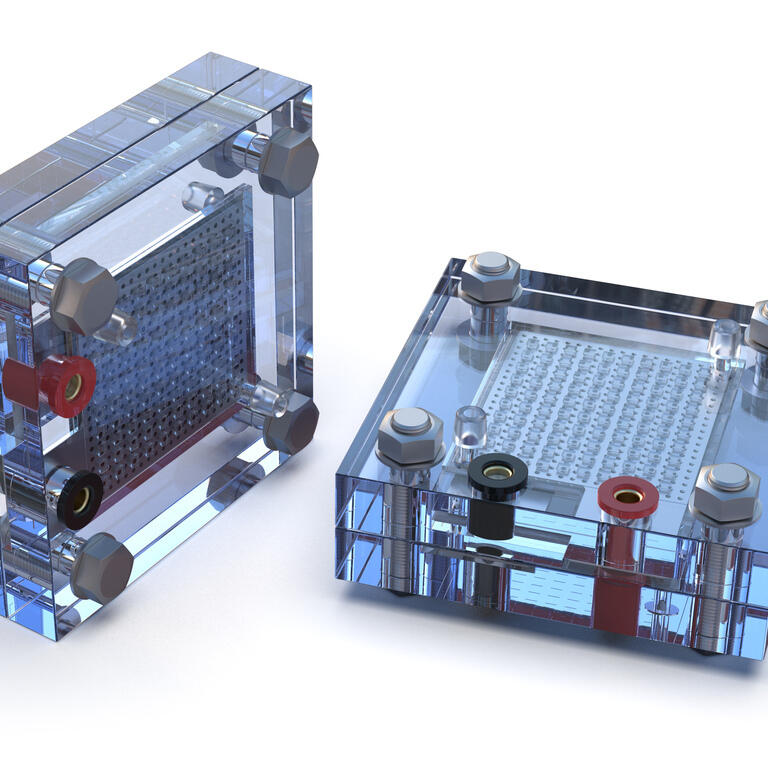 Elevator Pitch
I rate FuelCell Energy, Inc.'s (FCEL) shares as a Hold. FCEL describes itself as a "manufacturer of proprietary fuel cell technology platforms" in the company's media releases.
FuelCell Energy is a stock deserving of a Hold rating, after taking into account its current valuations and revenue growth forecasts for the next two years. FCEL is estimated by analysts to more than double its revenue in FY 2022 (YE October 31) thanks to a one-off sale, but this is unlikely to be sustainable as evidenced by expectations of normalized revenue expansion in fiscal 2023. This explains why FCEL is not a Buy, despite the fact that its forward FY 2022 Enterprise Value-to-Revenue multiple is lower than that of its peers.
Before I proceed to discuss FuelCell Energy in greater detail in the subsequent sections of this article, it is worth referring to the chart below which details the company's key business highlights, revenue streams, and client base.
A Quick Snapshot Of FuelCell Energy FuelCell Energy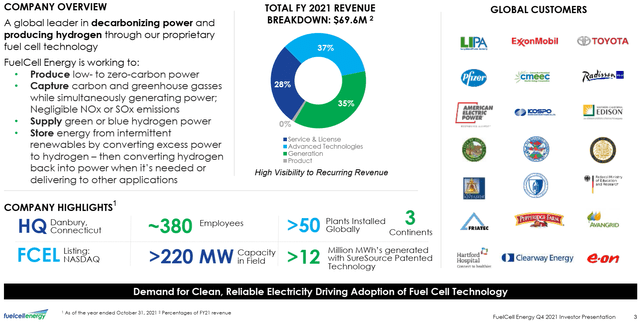 What Is The Price Target For FCEL?
The median sell-side analyst consensus price target for FCEL is $5.25 at the time of writing, as per S&P Capital IQ data. This translates to a modest upside of +9% as compared to FuelCell Energy's share price of $4.83 as of January 14, 2022. I have chosen to make reference to FCEL's median target price, rather than its mean price target ($5.69), because the mean tends to be distorted by outliers.
On the flip side, the potential downside for FuelCell Energy might not be substantial. The lowest target price set by Wall Street analysts covering FCEL is $5.00, which still implies a capital appreciation potential of +4%. In other words, none of the sell-side analysts think that FCEL's stock price will drop significantly from current levels.
It is important to evaluate how FCEL's valuations compare with that of its peers, apart from a review of consensus price targets.
FuelCell Energy's Peer Valuation Comparison
Stock Market Capitalization ($ millions) Consensus Forward FY 2022 Enterprise Value-to-Revenue Multiple Consensus Forward FY 2023 Enterprise Value-to-Revenue Multiple Consensus Forward FY 2022 Revenue Growth Consensus Forward FY 2023 Revenue Growth FuelCell Energy 1,771 10.8 9.6 +109.9% +20.9% Plug Power Inc. (PLUG) 13,510 12.5 8.5 +79.9% +54.7% Ballard Power Systems Inc. (BLDP) 3,273 17.6 12.1 +26.8% +51.9%
Source: S&P Capital IQ
FCEL's consensus forward FY 2022 Enterprise Value-to-Revenue multiple is much lower than its peers as per the peer comparison valuation table presented above. But this is justified on the basis that FuelCell Energy's forecasted FY 2023 revenue growth is the weakest in the peer group, and that its market capitalization is the smallest among its peers (i.e. valuation discount for small-cap stocks) as well.
More importantly, FuelCell Energy's expected strong fiscal 2022 top line expansion is driven by a one-off, which I explain in the next section.
FCEL Stock Forecast
FuelCell Energy is currently unprofitable, and is expected to take a few more years to be in the black. As such, the focus of FCEL's financial forecasts is on its future revenue estimates.
As highlighted in the preceding section, FuelCell Energy's revenue is expected to increase by +109.9% and +20.9% to $146.1 million and $176.6 million in FY 2022 and FY 2023, respectively. The consensus sales estimates for FCEL in FY 2024 and beyond are less relevant, as a majority of the sell-side analysts covering the stock have yet to provide their financial forecasts for fiscal 2024-2026.
There are two key drivers supporting FCEL's expected +109.9% jump in its top line for fiscal 2022.
Firstly, FuelCell Energy has guided that the company will focus on driving product sales going forward, instead of relying solely on Purchase Power Agreements or PPAs as it did in the last few years.
At its Q4 FY 2021 earnings briefing on December 29, 2021, FCEL acknowledged that "over the past two fiscal years, we have had essentially zero revenues from product sales." But the company highlighted at the recent investor call that it is "looking forward to creating opportunities in other Asian markets as well as select countries in Europe, the Middle East and Africa, where we have made it a priority to target product sales."
FuelCell Energy was unable to derive any revenue from product sales in the last two years, because of a legal case with Posco Energy which refers to itself as "the world's largest fuel cell producer."
In April 2020, The Korea Times reported that Posco Energy "will sue FuelCell Energy for providing a defective component and power-conditioning (stabilization) equipment." FCEL noted at the Q4 FY 2021 results call that "the litigation with POSCO created market confusion for customers, which made it difficult for us to generate product sales."
On December 27, 2021, FuelCell Energy disclosed that it "entered into a settlement agreement" with Posco Energy, putting an end to the legal issues. FCEL also emphasized in this announcement that this settlement "confirms FuelCell Energy's access to sell products in the Asian market, including South Korea."
Secondly, FCEL is expected to record $60 million of product sales from Posco Energy in 2022 as revealed at its Q4 FY 2021 earnings call, in relation to an order for 20 modules. This is part of the settlement between FuelCell Energy and Posco Energy highlighted above.
Notably, the market consensus expects FuelCell Energy to grow its top line by +$76.5 million and +$30.6 million in FY 2022 and FY 2023, respectively according to S&P Capital IQ data. It is clear that the $60 million of incremental revenue contribution from Posco Energy is viewed as a one-off. The sale of 20 modules ($60 million) accounts for an estimated 78% of FCEL's revenue increase ($76.5 million) for FY 2022, and the sell-side sees FuelCell Energy's revenue growth slowing in FY 2023.
Looking ahead, the business outlook for FuelCell Energy is mixed. On one hand, FuelCell Energy has the potential to generate product sales from South Korea and other Asian markets going forward, following the settlement with Posco Energy. On the other hand, FCEL still has to compete with other companies in the future, and there is no guarantee that it will be successful in bidding for new projects.
Is FCEL Stock A Buy, Sell, Or Hold?
FCEL stock is a Hold. FuelCell's valuation discount to its peers based on the consensus forward FY 2022 Enterprise Value-to-Revenue metric is reasonable based on its relatively smaller market capitalization and slower revenue growth for FY 2023. Unless FCEL can prove that it can be competitive in new project bids and achieve a sustained level of product sales in the future, the stock is not deserving of a Buy rating.