Lululemon Stock: Top-Dog In Apparel Retail (NASDAQ:LULU)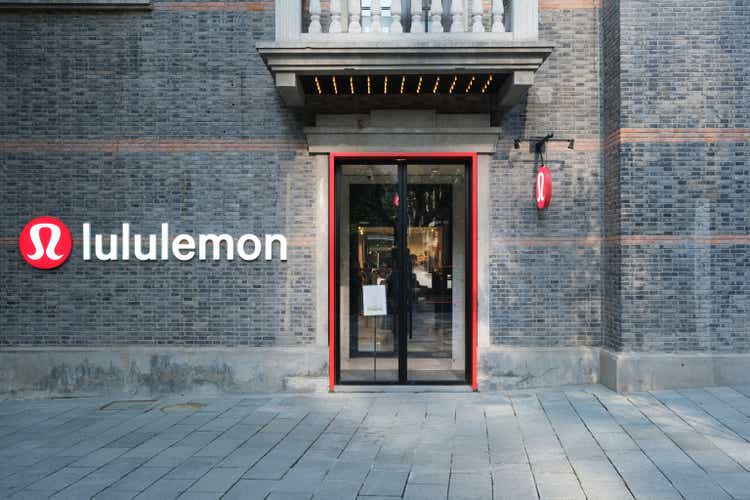 Investment Thesis
Over the last two decades, Lululemon (LULU) has built a reputation of being the best-in-class fitness-apparel retailer. They pioneered the "athleisure" movement and dominate the luxury end of the market. This incredible brand strength, in tandem with capable leadership, enables Lululemon to continue capturing substantial growth. Strong performance and the recent improvement in valuation make Lululemon an attractive investment opportunity.
Lululemon's Competitive Strengths
Lululemon has outperformed the S&P Retail ETF (XRT) by 260% over the last five years, returning investors 36% annually. So what gives them such an edge? The company was founded in 1998 as a yoga and athletic apparel company. With a focus on superior-quality products and brand credibility, they have secured a clear leadership position in the luxury-end of the market. Though the industry is competition-intensive, Lululemon sets itself apart by developing the best product at a premium price. This is achieved through extensive market research and heavy product development.
Brand awareness and customer loyalty are powerful tools at Lululemon's disposal; qualities that are often hard to value empirically. A term that describes these attributes well is "Mindshare". Having mindshare causes people to associate a company's reputable image with the best of a certain product. Some examples would be Apple and mobile phones, Tesla and electric vehicles, or Google and search engines. The Lululemon brand is synonymous with the most premier fitness apparel.
Mindshare, along with high-quality products, equips Lululemon with noticeable pricing power. This pricing power enables Lululemon to adjust to changes in macro factors such as decreasing demand or increasing costs. A good example of this is how Lululemon showed competitive strength during the pandemic. Normally during recessions, consumers opt for cheaper alternatives and total demand shrinks. But even though higher priced, Lululemon's superior quality products gave them durability in 2020 compared to peers.
Apparel Retail Performance in 2020

The shift to work-from-home also drove athleisure sales as consumers opted for more casual and comfortable workwear. This structural trend will continue to benefit Lululemon going forward. According to a recent Gallup poll, "45% of full-time US employees worked from home either all (25%) or part of the time (20%) in September" of 2021. This is true across the globe as well, with Gartner estimating that 31% of worldwide workers will be remote (both hybrid and fully) in 2022. Additionally, their performance in the midst of macro headwinds is a testament to the company's loyal customer base. Lululemon takes a different approach to selling its products that results in increased network effects. The primary method they use for building brand awareness and guest loyalty is community-based marketing. This involves marketing efforts across social media, content marketing, in-store community boards, and other "grass-roots" initiatives. All of which expand the company's mindshare and customer engagement. These communities are centered around values like wellness, health, sustainability, and connection. As the community of enthusiasts grows, so does the value of their products.
Lululemon's wellness community also underscores their superior focus on ESG (environmental, social, governance) factors and conscious capitalism. Conscious capitalism considers all stakeholders affected by business operations and aims for more than simply pure profits. It prioritizes positive corporate culture, recognizing social and environmental impacts, and adhering to ethical practices. In August of 2021, the company partnered with a sustainable materials company, Genomatica, to create a lower impact, plant-based nylon to replace conventional nylon. Calvin McDonald, CEO, explains:
Our partnership with and investment in Genomatica demonstrates our commitment to be a leader in creating products that help build a healthier future for ourselves, for our communities and for our planet. Genomatica's bio-based innovations, along with their distinctive track record of successful commercial applications, will help us deliver on our Impact Agenda goals to make 100% of our products with sustainable materials and end-of-use solutions by 2030, as we move toward a circular ecosystem.
In the past, apparel retail companies have also been involved in controversies regarding labor conditions in foreign factories. Lululemon has avoided these pitfalls by making good working conditions a high priority and having high ethical standards for all suppliers. ESG factors are increasingly becoming integral in the long-term success of companies. Many investors choose companies that align with their values and make a positive impact. Lululemon checks both boxes.
Management and Initiatives
The quality of management is often overlooked in the success of a company. Visionary leadership will continue to find avenues of growth when previous successful business lines dry up, creating optionality and an increased TAM. Lululemon's CEO, Calvin McDonald, is a wonderful example. He was recently featured in Glassdoor's Top CEOs of 2021, sitting at number 19 with a 96% approval rating. This was his 5th year in a row making the cut. Lululemon was also selected in Glassdoor's Best Places to Work in 2022 list at number 9. This is a strong testament to the company's culture, which is prioritized heavily by Lululemon's leadership. Management's capability is also showcased by the strength of their profitability ratios.
Profitability Ratios Relative to industry Average

Another characteristic of great leadership is adaptability. As the pandemic took hold globally, many retail companies were damaged significantly. The firms that weathered the storm best were those able to ramp up online retail quickly. Lululemon's outperformance of competitors throughout 2020 was driven in part by management's ability to escalate digital commerce while in-person stores were closed. They more than doubled their ecommerce business in 2020, keeping them afloat during nation-wide shutdowns.
Ecommerce expansion is also one of three pillars in their 'Power of Three' growth plan. The other two being Product Innovation and International Market Expansion. The plan aims to double their digital business, double their men's business, and quadruple their international business by year end 2023.
International expansion will be vital for Lululemon's long-term success as the global apparel retail market is projected to grow from $1.5T to $2.25T by 2025, according to Statista. And we have already seen them gaining ground. In Q3 of 2021, their international business grew almost 40% YoY. Below is a breakdown of LULU's geographical footprint.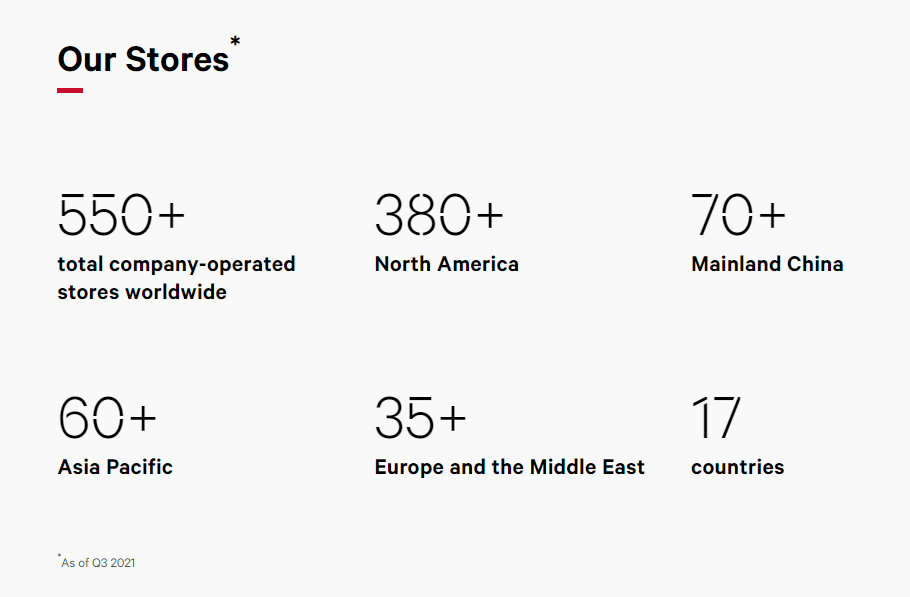 Lululemon's leadership is also focused on leveraging their brand to create optionality. This is showcased by LULU's acquisition of MIRROR, a smart-home gym product. MIRROR competes with companies like Peloton (PTON) by selling hardware and streamed workouts. Calvin McDonald also explained how adding MIRROR "was all about strengthening our community relationship with our guests." The more customers are engaged, the more they will continue to spend across LULU's whole offering. He believes just as hybrid work is here to stay, so is hybrid fitness. The global at-home fitness market stands at around $5.5B currently and is expected to reach $11.5B by 2027, according to Globenewswire. The MIRROR acquisition is not without its risks though. Strong competition and slowing engagement caused management to reduce MIRROR's revenue outlook by half. There were also rumors of tension with the integration of the two companies. Nevertheless, MIRROR is still a promising long-term investment with such an engaged and loyal customer base. It will take time to catch its footing and drive meaningful growth.
Robust Growth and Financials
Lululemon has seen increased growth and financial improvement the last several years. It grew revenues 30% in Q3 of 2021, which is a two-year CAGR (compound annual growth rate) of 26%. Their E-commerce revenue has grown at a two-year CAGR of 54%, showing strong execution of their 'Power of Three' plan. They are continuing to expand their store locations as well, with a total of 552 compared to 515 a year earlier. The majority of their new stores were in Asia Pacific as they seek to grow their international reach. Here is a breakdown of LULU's growth compared to competitors.

Lululemon is a clear leader among its competition in terms of growth. They trail Under Armor and Adidas in EPS growth because these companies were hit hard in 2020 and have seen a more recent spike the last year. Lululemon, on the other hand, has steadily grown EPS throughout the pandemic. Free cash flow (FCF) is another compelling element of LULU's growth, allowing them to fund growth internally. MIRROR being the most recent example as it was purchased with cash.

Lululemon also outpaces the competition in profitability, as shown above. Their Net income and Free cash flow margin strength is especially attractive because they are the youngest among these competitors. In general, more mature companies have stronger profitability and cash flow. This is a testament to LULU's apparent competitive advantages and ability to drive sales to the bottom line. Gross margin also expanded from 51.3% last year to the current 57.8%. Lululemon has also been repurchasing shares for eight consecutive years, including $541M in the last twelve-months.

Lastly, Lululemon has relatively less debt compared to their competitors. Inventory turnover and current ratios are helpful to assess a retail company's efficiency and liquidity. In both of which, LULU fairs well with its competition. I added SG&A margin as well to get an idea of how much each company has to spend to drive revenue growth. A lower SG&A margin means a company can increase sales by other intangible means, including brand awareness and network effects. LULU competes well in this area as well with the second lowest margin in this list. It is important to note that accounts included in SG&A can vary across companies. This combination of growth, cash flow, share accretion, and low debt presents an auspicious opportunity for investors.
Valuation and Technical Analysis
The recent market-wide correction has put many quality companies on sale. Lululemon is no exception. I will use two valuation methods to understand where LULU currently sits: a basic two-stage DCF model and relative multiples. In the DCF model, I first estimated the revenue CAGR for the next 10 years. I see LULU having continued strong revenue growth in the next few years, then gradually slowing down.

I used this CAGR to calculate the NTM (next-twelve-months) revenue. Then, I estimated the potential FCF margin. This is based on the assumption that LULU will continue expanding FCF but use some to invest in growth. I also kept my estimate close to their historical FCF margin. For the sake of simplicity and conservatism, I kept the diluted outstanding shares constant. Lululemon often repurchases shares which increases the free cash flow per share. Using these assumptions, I calculated the FCF per share and estimated its growth rate. Below are the model assumptions.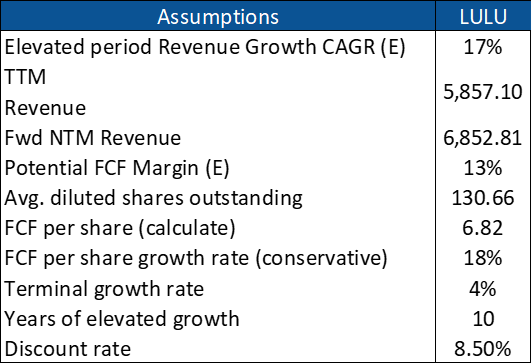 Lastly, I grew the FCF per share at the estimated growth rate for ten years and discounted it back to find the present value. The terminal growth rate was used to calculate the terminal value. The model showed that LULU is undervalued at its current price and has around 20% upside from here.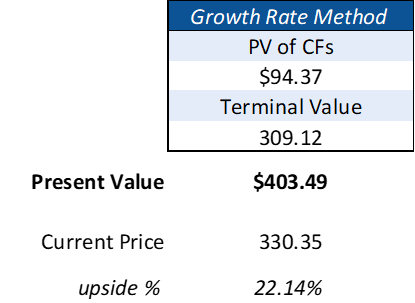 DCF models have several limitations and are based heavily on assumptions. Another helpful valuation metric is historical multiples. LULU's Price-to-Sales ratio is trading at 7.7x. This is near where it was in June of 2020, confirming the undervaluation relatively.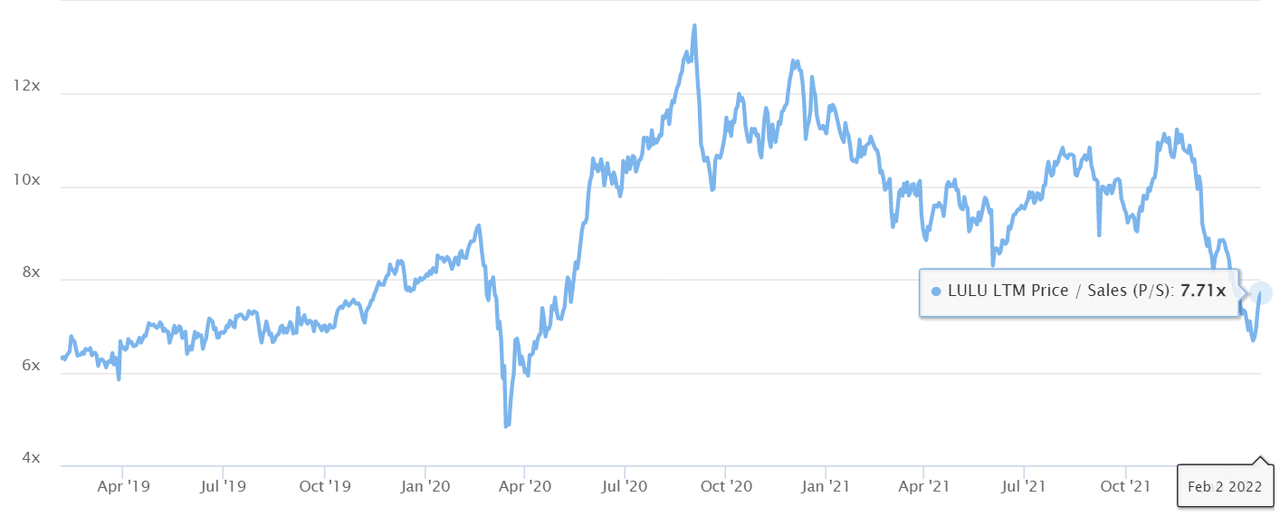 Technically, LULU has found support at $300 and is trading below the 200ma. It may be wise for investors to wait for bases to form and volatility to cool before jumping back in. Investment decisions should be based on the quality and fundamentals of companies more so than valuation. But as we have seen, ignoring valuation can be costly.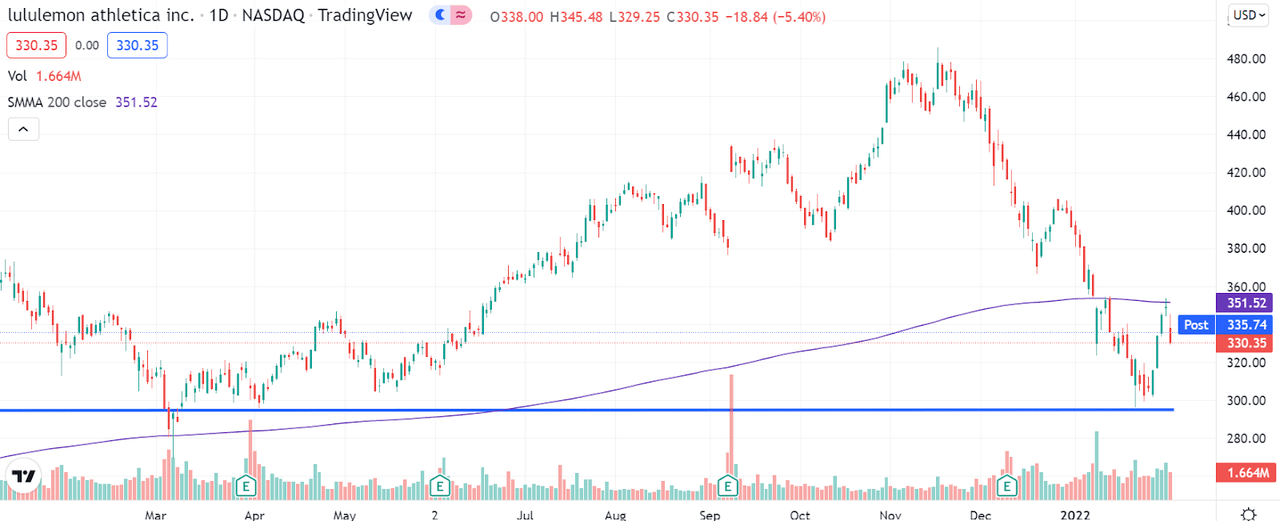 Risk
I believe the biggest risk Lululemon faces is the failure of its MIRROR acquisition. This investment will take time to pan out, but the industry faces its challenges. Another risk is short term price volatility. The macro environment is very uncertain currently and it's possible that LULU won't see much upside in the short-term. There is also an argument that the stock is still overvalued vs. its peers, but I believe Lululemon's competitive advantages and robust growth justify its comparative valuation.
Conclusion
Lululemon is a high-quality company with rock-solid fundamentals. The pandemic has boosted demand for its products and has helped it expand its e-commerce business. A strong brand, community-driven sales, and capable management will bolster company growth for many years to come. The market sell-off has put LULU stock on sale, giving prudent investors an opportunity for outsized returns in the long-run.