Novavax: The Bull Is Ready To Strike Again (NASDAQ:NVAX)
In the last two weeks, the share price of Novavax (NASDAQ:NVAX) has pulled back by 39% (from $236.5 on December 20 to ~$145 now) on irrational fears that their production is off track and that Omicron will mean little to no Covid revenues for Novavax this year or in the future. Even before that, the stock was greatly undervalued, as I described here and here. So I think now is a great buying opportunity. Below I will describe numerous reasons why I think these fears are overblown. But first let's take a look at what occurred the last 19 times that fears caused a significant pullback in the stock, so we can learn from it and use it to benefit from the latest pullback.
Buying extra on the overdone drops and selling on the consistent rebounds has had excellent results
I have suggested many times to buy extra shares on pullbacks when the price is low, and gradually take profits on them on the rebounds … without touching your core long-term position. As this chart of the past 10 months shows, 19 times between March 1st and December 20th, the price dropped by more than $20 (and by more than 10%) over the course of one day to two weeks, and 100% of the time those 19 drops were followed by major rebounds.
17 out of 19 times the major rebound occurred within two weeks of a trough. The other two times the rebound occurred within three weeks.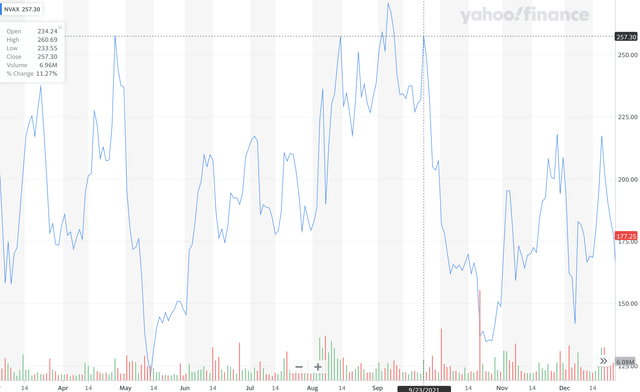 Chart courtesy of Yahoo Finance
The largest drop was 53% between April 27 at $257.67 and May 13 at $121. That was followed by a much larger rebound: a 74% increase to another peak at $209.64 on June 9. After a few other troughs and peaks, the price reached $272 in early September, for a total increase of 125% in just 4 months after the May 13 close. That was the 7th time in recent years that a pullback was followed by a rebound of more than 100%.
In the chart above, the smallest rebound was a $33.53 increase from $217.47 on August 19 to $251 on August 23, a rise of 15.4% in just two trading days. Almost all of the other rebounds were far larger, meaning these are not small moves in price.
The most important thing to keep in mind is that between each of these peaks, there were major pullbacks filled with significant levels of fear, uncertainty and doubt (FUD) similar to the FUD we hear now. The majority of people thought a rebound wasn't going to occur and were afraid of buying. 19 times in a row they were wrong. Frozen by fear, they failed to see through the irrationality, and failed to take advantage of the opportunity.
They are also taking place in very short time frames. Of the 20 major peaks, the first was March 1 and the last was December 20. That is 286 days, or an average of only 14.3 days between peaks. The longest time between peaks was 6 weeks and the shortest was 2 days. If you study the year prior to the last 10 months, you'll find there were also short periods between peaks. With the last peak occurring on December 20, it means there is a good likelihood the next one will come in mid-to-late January.
I don't recommend you day trade. Instead, I suggest the principle of having an oversized position when it's heavily undervalued, and trim it to a regular sized position as it gets close to an appropriate valuation. For context, the consensus short-term price target is $268, with a high target of $315 and a low of $208. From ~$145, reaching the consensus would be a gain of 85%. Also, I think analysts will increase their price targets during Q1 as Novavax ships large quantities of vaccine to many dozens of countries around the world and dispels the misinformation about its manufacturing. In fact, the head of healthcare research (and senior biotech analyst) at B. Riley Securities just raised his price target to $315 this week.
5 reasons why Novavax is using Serum Institute manufacturing data for its main EUA filings
A central potential risk bears and short-sellers have been emphasizing is the possibility that Novavax's manufacturing is off-track with the exception of the Serum Institute (SII), which they concede is on-track. They argue that because Novavax has been using SII's production data in their EUA packages, it means its other manufacturing facilities are having problems making the vaccine. However, on its recent earnings call, the Novavax CEO Stanley Erck described five very good reasons for the approach. They are:
SII had added capacity specifically for Novavax production over the past several months and was on the way to being able to make 167 million doses per month, or 2 billion per year. That meant SII had already expanded their capacity to be their largest-sized location, so it made sense to lead with them. SII also had already been inspected by the U.K. drug agency and other agencies, and received a GMP certificate Erck said "their plants are probably some of the most modern plants in the world" and "they're highly regarded by the regulatory agencies…" He also explained that SII is a high-trusted partner: "We've been working with them for over almost two years in a variety of areas. And so we know them really well." SII had already successfully made a billion AstraZeneca (NASDAQ:AZN) doses and received global approval for it.
Overall, I think it's a smart strategy to lead with the data of a producer they trust, that has a lot of proven success, that's already been inspected and that's their biggest producer. That has a super high probability of approval. Later, you can submit all of the other locations. By the time they're viewing the other locations, the EUAs have already been given, so you've removed a huge amount of headline risk.
Plus, if you submit data from 17 other locations in the supplement, and they accept 15 of them and want more info or changes from two, it's a fairly small thing given your vaccine is approved, your first facility is approved and you are batting .890 on the additional sites on their first go-round. You can probably easily take care of the couple of stragglers.
7 reasons to be manufacturing at other Novavax facilities is on track
Bears and short-sellers also speculate in other ways with claims that manufacturing is very off-track. One is a claim that because Novavax hasn't filed supplements with the data from the other locations, it means many of them have major problems. However, I believe the speculative claims on manufacturing are ill-informed for 7 major reasons:
1) On the last earnings call, Novavax said they would not file the supplements until either around the time or soon after they receive the EUAs for the 6 EUA packages they had just filed. An analyst asked: "I just wanted to circle back on plans to supplement the current filings with CMC packages from your own supply chain. Could this happen before or is it more likely to happen after the anticipated decisions, authorization decisions for regions filed over the past week?" The CEO responded: "If you can imagine that our team has filed nine applications, regulatory submissions and we've got a few more countries to go, that's going to consume them. But we'll get the supplements in either around the time that they're approved or just after."
Of the 6 newly filed packages, they have not received EUAs from the UK, Canada, Australia or New Zealand. They have from the WHO and EU. So they're only 1/3rd of the way through receiving those EUAs. In another section of the call, the CEO also said: "once we get regulatory approval in various territories, we will supplement those filings with data from Korea, from Czech Republic, from Spain, et cetera. So we can get them all involved."
When a company gives guidance on timing, and they're still well within that guidance, it is not wise to spend valuable time with speculative worrying about it. They had other packages to handle first, and the original EUA packages were about 200,000 pages long. It appears the supplement will include data from 17 facilities around the world, so it will likely be even longer. Also, while management has been working 7 days a week since the start of the pandemic, I don't think regular staff are doing that now, and the Thanksgiving, Christmas and New Year's holidays plus vacations were during this time period.
2) Numerous times since October Novavax executives have said all manufacturing challenges are out of the way. They said they are producing commercial scale batches at all locations. Moreover, on November 4th, the CEO said they already had "inventory in the U.S. and Europe and South Korea, and inventory that's being built up at Serum…. the scale-up of the product at Serum is – and at our places is – fairly dramatic." They can only put product in inventory if it passes all tests. In December he said, "we're at a level of production that is approaching the 2 billion annual mark … and we'll have plenty of product for global distribution."
3) Usually companies do not file EUA packages unless the manufacturing is on track at the facility in the package and the ones coming in the supplement. The Novavax CEO explained this in late October.
4) Mabion, a small manufacturer in Poland with only one production line, was able to achieve full proficiency at producing the vaccine in only several months. In the spring, Novavax asked Mabion to demonstrate it could do several technical things as a precursor to a potential agreement. In late June, Mabion was still in the process of that, but had shown enough promise for Novavax to order raw materials to be ready if an agreement were signed.
Before Mabion could start, it had to buy equipment and retool its factory. On October 8th, it signed an agreement with a goal of commercial production in December. To prove full competency, a producer must do 3 successful batches in a row. Once fully scaling after a few months of production, each batch takes 10 to 15 days. At the start, batches can take 20 to 30 days.
By November 25, Mabion did all 3 batches and the batches met all requirements. Mabion's president said "We can boast of its high quality, all in accordance with the specifications required by Novavax." He added: "The desired high quality of the product was reproducibly achieved, which was confirmed by tests carried out in the company's laboratories, as well as cross-confirmed in laboratories working for Novavax located in the United States and Europe." They were tested using the revised testing assay approved by drug agencies two months earlier. Moreover, the Mabion president conveyed the vaccine was easier to manufacture at commercial scale than they expected. He said "the profitability is in the upper limits of our expectations, we are very satisfied with it, it exceeds our original assumptions we had when we joined this process."
Assuming 3 days for the last set of tests, it indicates Mabion: a) made 3 batches in just 45 days. b) If they had to pause for 3 days between each for tests, the actual production time was 39 days, or 13 days per batch. If yes, I think they can get it down to 10 or 12 days. c) All 3 of their first batches were successful. They were able to do it fine the first time around.
Given a small contractor with only 1 line can basically master the process in their first try and in only several months, it's unreasonable to claim that a major biotech manufacturer like Fujifilm that has 11 Novavax production lines in 3 countries and started working on making it back in July of 2020 (18 months ago) hasn't figured out how to make it yet. Its 3 Novavax factories each have 300 to 700 employees.
Similarly, the manufacturer in Spain, Biofabri, has a factory with quadruple the number of lines as Mabion, has at least as much experience and has been working on it for 15 months. Moreover, when Mabion prepared to work with Novavax in the spring, it was confident it could make it because several other factories had already done so. SII and SK Bio had not yet begun production, so it was referring to Fujifilm and Biofabri.
5) The only other companies making the antigen in 2021 were SII and SK Bio, and both mastered it quickly. SII was making its first batch on June 25, and only 39 days later they had: a) done two more successive batches; b) fully tested them; and c) compiled all of the manufacturing data and put that plus trial data into 3 EUA applications. SK Bio started commercial work in May. By September, it had not only done the 3 successive batches to prove itself, but had also manufactured 40 to 60 million doses that passed through all quality tests.
6) Most other Novavax producers have said their manufacturing is on track and learning to make the vaccine wasn't hard. For example, the Fujifilm CEO recently said that after they were requested to work on the vaccine in July 2020, they were able to quickly learn to make it, and had already delivered "several scores of batches around the world."
A score is 20, and several is usually between 4 and 6. So several score is likely 80 to 120 batches. Their batches are 2,000 liters, which is about 2 million doses. So 80 to 120 batches is about 160 to 240 million doses. This fits exactly with two other reports. One is the Fujifilm CEO said their UK facility made 60 million doses by the start of December. That gels with him saying in late spring they'd have 60 million made by September. In November, the Novavax CEO told CNN they'd have 100 million U.S. doses ready to deliver by mid-February. 100 million in the U.S. and 60 million in the UK is about 80 batches.
In October 2020, Biofabri reported they were on track to achieve commercial scale by late November, 2020. Their annual capacity is 330m doses, far bigger than Mabion. Two weeks ago, they reported they've been making the vaccine since last 2020, and have been continuing to produce it.
Last spring, Novavax said all factories had already done at least one commercial scale batch. 8 months later I'm confident they've figured it out. Also, there is not a giant global conspiracy of most of Novavax's producers lying about being able to produce it.
7) Even if all 3 Fujifilm locations and Biofabri were completely off track and couldn't produce any doses for all of 2022, Novavax would still be able to make well more than 2.5 billion doses in 2022, as you can see from this chart of the maximum capacities of their facilities: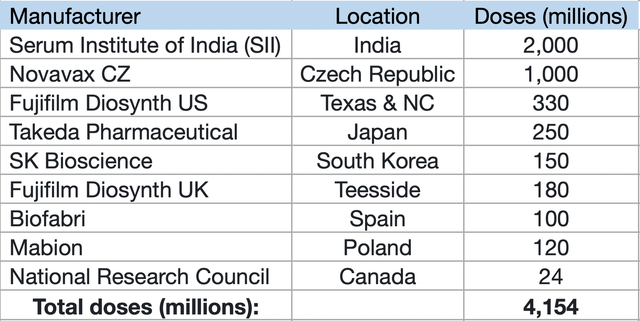 Details and links to the capacity of each facility are in my past article here.
Bears also like to claim there is huge over-reliance on SII. But as the chart above and facts in this article show, Novavax is far more diversified than BioNTech (NASDAQ:BNTX), which relies mostly on Pfizer (NYSE:PFE), and Moderna, which relies mostly on Lonza. Also, as SII is the largest and most efficient producer by far, I'd prefer to rely on it than anyone else. Even subtracting 610 million doses for all of Fujifilm and Biofabri (if they made none in all of 2022), the doses total is still 3.54 billion. From there, even if SII and all other facilities produce 20% less than maximum, they'd make 2.65 billion doses. They have a whole lot of room for error.
Bears and shorts have also claimed that because SII only shipped 10 million doses to Indonesia in December, it meant SII had zero Novavax inventory. However, the Indonesian consulate in India said the agreement was for SII to deliver 9 million in December and the other 41 million in 2022.
On its recent earnings call, Novavax said all doses from SII to higher-income countries were being made on a contract basis, in which Novavax pays a fee per dose and keeps all profits. In a note this week, B. Riley also said Novavax keeps all profits on SII doses sent to high-income countries. B. Riley also said concerns about Novavax production are unwarranted and the company would capture "meaningful share" of the $60B+ 2022 Covid market.
A big development is in early December, the SII CEO said they had already developed capacity to do 150 million Novavax doses monthly (1.8 billion annually). He said SII would be producing 150 million doses per month upon EUA from a major global drug agency. That likely means about 60 million doses of antigen in the 2nd half of December plus the roughly 30 million finished doses SII stockpiled before EUA. Plus 150 to 167 million this month.
Evidence of this is India this week already tested and dispatched 10 million doses for domestic public use, and are testing another 10 million. This wouldn't be possible if SII didn't have stock. Further evidence of this is on December 29, India approved an SII request to ship 70 million doses to the Netherlands, Australia and New Zealand. SII wouldn't have done this if it wasn't producing large quantities.
On the last earnings call, Novavax said SII can make 200 million Novavax doses per month (2.4 billion per year). Keep in mind that SII scaled from a rate of 160 million AstraZeneca doses a month in September to 250 million a month in November, an increase of 90 million in 2 months. If needed, I think it can easily go from 150 to 200 million a month, a 50 million increase.
2021 production quantities
Normally vaccine companies don't produce doses at risk before approval, but a pandemic is a rare situation. The US paid for 100 million doses by each OWS company to be made even if the vaccines weren't approved. Its broad aim was to have large amounts by EUA, and each company could produce up to 100 million at risk if they showed forward progress. Recently Novavax said they'd have 100 million US doses by mid-February, so I think about 60 million were done by the end of 2021. The UK was paying Novavax to produce 60 million doses at risk, and Fujifilm said that was done by November. The US and UK statements were given long after the new assay had been agreed on.
In its Q3 report and call on October 29, SK Bio said by September it had already successfully made 40 million Novavax doses for the Korean government under one Novavax contract, and had made another amount under a second contract that I estimate at 10 million. Here is a slide from their report: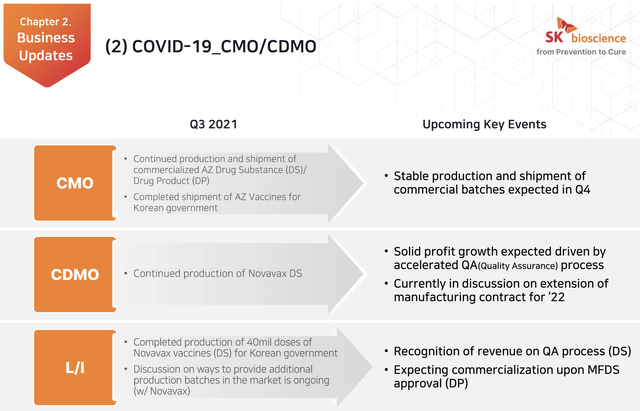 Source: SK Bio Earnings Release Q3, 2021.
L/I refers to its licensing contract in which it shares profits. CDMO is a contract where SK Bio makes doses for a fee and Novavax sells them and keeps the profits. SK Bio said all doses passed all quality assurance (QA) steps. I estimate SK Bio has made another 30 million to 50 million since September. SII planned to stockpile roughly 30 million prior to a major EUA, and produce 150 million a month upon EUA. So I estimate 60 million made post-EUA by SII in December, and 5 million by Mabion. I'm referring to doses of antigen, the main ingredient since that's the part bears claim isn't being made; and because fill finish isn't hard to do.
The numbers above total about 300 million doses, and don't include Prague and Biofabri, with capacities respectively of 1 billion and 330 million. Because Novavax was paying Mabion to produce at risk, I figure they were doing the same at their own Prague factory and at Biofabri. Statements from Biofabri indicate this was the case, as do statements from Novavax that all its factories were producing commercial batches. I estimate about 50 million doses were made at each in 2021, for a total of 400 million overall. With their large capacities, it could be much higher. But even if they only made 200 million last year, I think with EUAs meaning production is no longer at risk, their tremendous capacity will be able to easily fill their APAs and then some in 2022.
Omicron's dramatic mutations mean an infectious escape variant will probably occur fairly soon
In this article published before Omicron, two experts said dangerous new variants to the virus will occur. Most experts said the same. In a March survey of 77 experts, two-thirds said within a year Covid will mutate enough to make most vaccines ineffective. 18.2% think it may take longer. Also, tests by 41 researchers indicate that variants escaping vaccines "will be inevitable."
All of the above dire forecasts were based on the previous level of mutations, which were far lower than now. Experts say Omicron has almost quadruple the number of mutations as Delta. The scientist who detected Omicron said the speed at which it accumulated its large number of mutations is concerning. While Omicron is only partially able to escape vaccines, it shows dramatic changes are quickly occurring. This week, French officials announced they found a new variant with almost the same larger number of mutations as Omicron, and said it was ""another example of the unpredictability of the emergence of SARS-CoV-2 variants." Prior to this, researchers already thought escape variants were inevitable. Now I think they're not only inevitable, but are fairly imminent.
Coronavirus expert Mark Denison of the Vanderbilt University Medical Center said that as the Covid virus copies itself, it snips and throws away pieces of its own genome and recombines with bits of others floating around the same cell. The new version of the virus then moves to another host cell, plus also sometimes carries discarded genome pieces to the next host cell like an uninvited hoarder with bad manners. The transiting virus "looks like a garbage bag," said Denison, who has studied for decades.
Coronavirus expert Mark Denison said each time the Covid virus copies itself, it "looks like a garbage bag" with snippets of its own genome and bits of others floating around. It is constantly re-formulating itself using what it finds in the current garbage bag. "If you think from the virus's perspective of 100 million people, billions of cells, the virus is replicating 24 hours a day, seven days a week, leaving one cell and moving to another – the numbers game for the virus becomes trivial. The opportunities are astronomical," he said.
What does he mean by "the numbers game"? Dr. James Hamblin, a lecturer at Yale School of Public Health, explains that the Covid virus is "spinning through trillions of generations each minute." Trillions of times each minute of each day, these Covid garbage bags are moving to new cells and reconfiguring themselves. Their evolutionary goal is to evade the vaccine and the immune system. With trillions of opportunities per minute, achieving this goal is trivial, Denison said. "We are one mutation away from having a variant of concern that renders our current vaccines insufficient to protect us," said Dr. Corey Casper. Thus I think it won't be long before a variant arrives that does so. That would probably greatly increase vaccine revenues.
In the 11 months after the WHO designated Alpha to be a Variant of Concern (VOC) in late December of 2020, it has designated 4 newer variants to be VOCs and 8 as Variants of Interest (VOIs). On average a new VOC or VOI is designated each month, and a new VOC hits the world roughly every 2.75 months. It's been five weeks since Omicron was designated, so if the pattern continues, a new VOC will arrive soon, and many more after that. In the fall of 2020 with vaccines approved, most experts predicted the pandemic would be under control by late spring, then the Alpha wave came. After it subsided, lots of people predicted the pandemic would be over by July, then the Delta wave came. Then, the pandemic was supposed to be over by the holidays, but the Omicron wave came. Anyone saying Omicron is the end of the pandemic is rolling dice.
Also, don't think that simply because Omicron is on average less severe than Delta, that the next variant won't be more severe. Alpha was more severe than the original, and Delta was more severe than Alpha. So two of the three most prevalent variants have had more severity. Scientists here say the reason is because one of the 3 ways viruses survive is becoming more serious. Consider if people are sick for 12 days instead of 3, there are likely more days they can spread the virus.
People should also not conclude too much from the Spanish flu moving to endemicity, as really no airlines existed in 1918, car travel was uncommon, eating out was uncommon and the world is 300% more populated and dense now. Even if new Covid variants are milder like the flu, Mamtami of B. Riley predicts that would help Novavax sales because tolerability is a key criteria for use in a "use in a post-pandemic environment, where [Novavax] continues to stand out as the least reactogenic vaccine."
Omicron makes a good case for vaccination
A new UK study found people who had three doses were 88 percent less likely to be hospitalized than those with none. Elsewhere, this week New York state reported unvaccinated people are "getting infected at more than 6x the rate of vaccinated ones and hospitalized at 14x the rate of unvaccinated ones."
A study by researchers at Imperial College found Omicron was only "11 percent less likely to produce severe disease in any given individual after adjusting for factors including age, sex, underlying health conditions, vaccination status and prior infection." That indicates Omicron might be almost as severe, but vaccinations have greatly reduced hospitalizations. For context, Delta was a little more severe than Alpha, and Alpha was more somewhat severe than the original. So Omicron being somewhat less severe than Delta could mean it's still as severe as the original, which was considered very bad.
Experts warn people should not take Omicron lightly or read too much into early data about milder severity. Throughout the pandemic, hospitalizations have lagged case counts by a few weeks, and deaths have lagged hospitalizations. Also, because Omicron is far more contagious, even if the death and hospitalization rates from Omicron turn out to be 3 times lower, if people are 3 times more likely to get infected by it, the ultimate rates of death and hospitalization per capita in the U.S. could be the same.
Also, the UK has a much higher vaccination rate than the U.S., so the impact of Omicron here could be much more severe. On that front, the New York Times said: "Hospitalizations are being closely watched in New York City, one of the first places to be hit hard by the Omicron variant, as a bellwether for the nation as a whole." The bellwether looks bad. More people are hospitalized there now than in last January's huge Alpha surge. Moreover, Covid hospitalizations skyrocketed 130 percent between Christmas Eve and New Year's Eve, compared to a 60 percent rise in cases over the same period, state data shows. Plus in the state, daily deaths just exceeded any of the daily death rates from Delta. Quantities of all of the above are expected to increase significantly.
More infections means more mutations, and likely more Long COVID
It also would be terribly myopic for anyone to focus only on hospitalizations and deaths for a few major reasons. One is the grave risk from mutations. If the number of infections increase by 100%, the number of opportunities for more dangerous, more vaccine-resistant variants also go dramatically higher. The head of the WHO recently said, "Surely we have learned by now, that we underestimate this virus at our peril."
The risk is greatly magnified by the fact that the majority of VOIs and VOCs have emerged in poorer countries. Most of those countries have low vaccination rates due to lack of quality vaccines and infrastructure to administer them. I think it will take until early 2023 for them to reach decent vaccination rates and by then, most people will need a booster within a few months. Last week, the head of the WHO said lack of vaccinations in poorer countries could mean new variants "fully resistant to current vaccines or past infection."
This plus vaccine hesitancy in higher-income countries means hundreds of countries will be breeding grounds for new variants. I think the virus's next task will be evasion of Omicron-related immunity. Since this immunity will likely be primarily oriented towards the nasal passages, the virus has some incentive to move to the lungs.
Another major reason for not ignoring milder cases is that studies have found that mild breakthrough cases still result in very high rates of Long Covid. A major study of 81 million patients (mostly in the U.S.) published in later October found that when breakthrough cases occur, people still get Long Covid at the same rates. Long Covid has devastating effects on people including chronic fatigue resulting in an inability to work, full-body pain and parosmia, a disorder that causes food to taste like garbage and sewage and pleasant smells to be repulsive.
About 19% of people who have only mild Covid develop long Covid. Triple the number of breakthrough cases could be triple the amount of people suffering from long Covid. The study also found that breakthrough Covid results in the same levels of renal disease, sleep disorders, arrhythmia, type 2 diabetes and liver disease.
Long Covid also hurts the economy through decreased productivity from illness and people leaving the work force. It also has negative impacts on parents, spouses and friends. When a loved one can't spend as much time or can't do activities with you, it is a loss to everyone. Boosters are an essential component of fighting this.
The probability of annual boosters has increased, and boosters every 6 months are possible
The development of Delta and all of the new developments above resulted in many experts saying boosters will be needed every 6 to 12 months. David Ottenbaker, vice president at SSM Health in Wisconsin, said: "if you look at how this is playing out, it probably will be getting vaccines now, whether it be every six months [or] once a year." Some countries such as Chile have already implemented policies that require people over 18 to receive a booster every 6 months to keep their pass that allows access to restaurants, hotels and public gatherings.
Two major reasons exist. One is the fact that protection from vaccines wanes with time because the quantity of antibodies drops by 50% each month. The second reason is mutations resulting in variants that escape vaccines to varying degrees. Even without the latter being a factor up until now (Delta did not significantly evade vaccines and Omicron only partially did), the vaccines didn't last long. Pfizer lasted only 6 months, while J & J and AstraZeneca lasted about 4 to 5 months. The Chinese vaccines lasted only 3 to 4 months.
With the emergence of Omicron, many countries including Germany recommend a booster after only 3 months, regardless of the vaccine. Israel, one of the scientific leaders in the battle against Covid, is giving many of its people a 4th dose three months after the 3rd dose. That's 4 doses in about one year. Prominent experts here say they think the 4-dose Israeli approach will become the norm, saying "Scientifically, they're right."
Dr. Anthony Fauci, the head of the US NIAID said: "I think there's a reasonable chance that the durability of protection following the third dose will be longer than the durability of protection that I just showed in one of my slides, where it waned after several months. If that's the case, then we may not need to get boosted every six months or so. But if it does wane, which I hope it doesn't, then we will address it." I usually take "reasonable chance" to mean 20% to 30%, a "good chance" to mean 40% to 50% and a "strong chance" to mean 60% to 70%.
Even if Dr. Fauci meant 50%, it means there's a 50% chance that durability won't significantly improve. Even if it does improve, I think it's unrealistic to expect a 100% improvement from 6 months to 1 year (for Pfizer) or from 3 months to 6 months for the lower quality vaccines. But even with a tremendous improvement of 100%, another booster would be needed 6 after the first booster for the weaker vaccines, and 12 months after the first booster for the stronger vaccines.
Dr. Arnold Monto. an Epidemiologist at the University of Michigan, said he believes people will have to get a booster every 6 to 12 months, and that he hopes the latter will occur. "What we're hoping for is that these vaccines may have to be given every year like we get the flu vaccine." Early last year, the dominant line of thinking was: boosters might be needed somewhere between every year and every 10 years. Now, the majority of experts agree that the first booster is needed after only six months. From there, many experts would be quite happy if only annual boosters are needed, versus twice a year.
Monster 2022 revenues
Most countries in the world accept authorizations by any one of the 4 major drug agencies: the EU, the UK or the WHO. Novavax has already received it from the WHO and the EU, so I expect the majority of other countries to do the same soon. India's EUA for its 1.3 billion people means 30% of the world is already directly authorized for it. Another 36% have access through the WHO's EUL. A full breakdown is here. India's recent approval for SII to ship large amounts of doses to Australia and New Zealand indicates they will also give EUA soon.
Some bears and short-sellers claim the ability of Novavax to sell doses is a major risk. But as the chart below shows, there are already orders for 2.07 billion doses. 100 million of the EU order would be for 2023 and about 10 to 20 million doses probably shipped to Indonesia last year, so the total for 2022 is about 1.95 billion doses. About 1.7 billion of these are Advance Purchase Agreements (APAs) between buyers and Novavax or its partners. These usually can't be cancelled except in highly unusual situations such as cases of fraud, acts of God or material breach of contract. For the latter, usually the buyer must give the seller written notice of the breach, and the seller has 30 days to remedy it.
Some APAs have a maximum delivery date, but the majority do not. For those that do, based on when Novavax signed its APAs, I think it will be able to meet those, plus countries can agree to extend them. Also, most APAs include significant up-front payments to go towards at-risk manufacturing. Even if a vaccine is never approved, the company only has to refund money it hasn't yet spent. I will delve into APAs more deeply in the future, including with links to APAs.
The only large order listed below that's not an APA is India. But India has already given EUA to Novavax, and numerous reports have said India has placed an initial order for 200 million Novavax doses. Novavax has 3 markets in India: 1) Primary shots for people over 18 who have not been vaccinated; 2) Primary shots for people under 18. 3) Boosters for all ages. Recently India's Covid vaccine advisory body had a preliminary consensus that boosters should be of a vaccine different from any of the vaccines India used in 2021 for the first two doses. A health official said Covovax (the Novavax vaccine) is "a leading contender to become a booster dose for those who have been administered Covishield (the AstraZeneca vaccine)."
This week one of India's health ministers said because domestic data has not come in yet on mixing vaccines, it will initially do boosters for the most vulnerable people using matched boosting. He said they'd make further assessments on mixing later. When the data comes in, I think there's a fair likelihood they'll do mixing for multiple reasons including: a) Data from the EU, UK and Canada as well as US data shows mixing provides better immunity; b) It's far easier logistically. c) It's less confusing. E.g. If a clinic has one vaccine but not another, they'll have to turn people away. d) Some people forget which vaccine they got or lose their records. e) The countries that are the leaders in health have gone with mixing. f) Many Indian experts favor mixing.
A recent UK study showed Novavax and Moderna (NASDAQ:MRNA) were the two strongest boosters for people who received AstraZeneca, as they gave "far higher levels of neutralising antibodies and T-cells." Novavax gave the highest level of T-cells. Moderna requires frozen transport and frozen storage, and so is not suitable for developing countries. Also, Moderna shots in the study used double the dose of their actual booster shot, so real life immune responses will likely be much lower for Moderna than the study showed.
Thus, many Indian experts favor using Novavax/Covovax to boost AstraZeneca recipients, including a member of the government's Covid working group and also the former head of the advisory group to the Indian SARS-COV-2 Genomics Consortia. About 1.17 billion (90%) of the 1.3 billion doses given in India so far have been AstraZeneca, which achieved only 63% efficacy in trials. Realizing how weak the shots are, the UK is not using AstraZeneca for boosting at all. It is switching entirely to other vaccines. The people eligible early on for boosters in India make up only about 6% of the people who already received two doses.
Also, 40% of India is under 18, and most are not yet eligible for vaccination. India has 465 million people aged 2 to 18. Due to the big size of this market, SII has been doing a comprehensive Novavax domestic trial in 3 age groups from 2 to 18 since mid-2021. The CEO of SII expects to capture a large amount of those age markets using Novavax, and that they should not get AstraZeneca. He said Novavax has "shown excellent data" in those age groups. In September, he said the vaccine might be approved for the oldest group 12 to 18 by January or February because the trial started with that group. 3 months is the minimum period of Indian pediatric trials. In November and December, he said in under 6 months the vaccine would be available for all 3 groups. India requires companies to do domestic trials for those groups, and most other companies haven't started them.
For those and other reasons I describe below, I think the India total for 2022 will be more than 400 million, but you're welcome to plug in your own estimate. The chart of existing orders has 200 million since that's what been reported so far. If SII gets 33% of people 2 to 18, it would be 153.5 people and 307 million doses. SII got 90% of the over 18 market using a lower efficacy vaccine, so I think it will likely get at least 40% of the under 18 market, which is 186 million people and 372 million doses.
The total doses in APAs for 2022 is about 1.7 billion, as not all of the EU doses are guaranteed. Numerous EU countries have recently said they've placed orders for Novavax and people say they are eager for them including here, here, and here. The Novavax supply is split among the 27 EU countries on a per capita basis. If any EU country doesn't place an order that uses up their allotment, other countries can take their supply for their own use or to donate.
Here is a chart showing existing orders: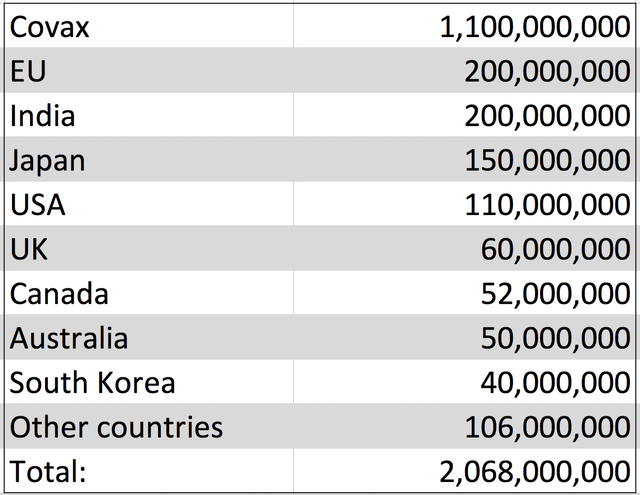 Data is from Duke University's Global Health Innovation Center
For details of the orders above, please view my prior article that covered them in-depth with links to all.
10 advantages of Novavax's vaccine should lead to additional orders
As of now, no countries in Latin America, the Caribbean or Middle East have placed orders. Many Asian countries also have not. When estimating the size of orders from India and other countries, we should consider the many advantages of the Novavax vaccine including:
1) The highest efficacy against the original strain: 96.4% to 100%; 2) Strong cross-protection, resulting in the highest efficacy against variants: 90% to 93%; 3) The highest level of neutralizing antibodies, which is a sizable factor in how many months a vaccine's protection lasts. 4) Low rates of temporary side effects; 5) Milder side effects; 6) No safety problems. The RNA vaccines have rates of myocarditis that are far above average levels in people under 30. The adeno vaccines have two types of blood clots, anaphylaxis, hypersensitivity and Guillain Barre Syndrome. 7) Doesn't require frozen transport or frozen storage; 8) Very easy to administer. No mixing by pharmacists is needed. 9) Far lower cost to produce than RNA vaccines. 10) It uses a tried-and-true traditional approach that is more appealing to the vaccine-hesitant.
Some countries are not allowing people under 30 to receive RNA vaccines due to the heart risk. Experts in other countries are recommending that people under 30 not use RNA for the same reason. Moreover, 50% of the world is less than 30 years old. So for half of the market, RNA vaccines are not a good approach when an equally effective protein vaccine is available without that problem.
Vaccines that require cold-chain storage including Sputnik and RNA vaccines like the vaccine by Pfizer are a poor fit for developing countries. For this reason, many hospitals in India have cancelled their orders for Sputnik. Clinics and doctor's offices are even less able to do cold storage. RNA vaccines are also not cost-competitive in low and middle-income countries (LIMCs), where SII can produce traditional vaccines like Novavax for far less.
Also, SII has long-term pre-existing sales and distribution relationships with most of the LIMCs. Orders for AstraZeneca have dried up due to its subpar efficacy, weak durability and blood clotting. I think the same will occur to the Chinese vaccines due to their weak efficacy and durability. Therefore, I expect that some middle-income countries that have used AstraZeneca and Chinese vaccines so far will place orders in the coming months. I also expect many of the high-income countries that have not yet placed Novavax orders (such as the oil-producing Arab states) to place orders.
Good candidates are Brazil, Argentina, Chile, South Africa, Mexico, Thailand, Pakistan, Nigeria, Saudi Arabia, Israel and Egypt). The combined population of those countries is 1.18 billion. I forecast they and other countries will place orders that total about 400 million doses. If only the countries above were to order 400 million, it would vaccinate 200 million people, or 17% of their people. Of course, doses will probably be used for a combination of primary vaccinations and boosters. Many will be getting some Novavax doses via Covax, but those are split among 160 countries, so each country will get only a limited amount.
If new countries order 400 million, India orders the same and the EU gets 100 million, the total would be 2.58 billion. My total estimate is a little below that at 2.5 billion. Between SII making 2 billion, and Novavax's 8 other antigen factories, I think they'll be able to make much more than 2.5 billion in 2022. Plus I expect they made at least 300 million last year. If you want to revise my estimate of 2.5 billion doses in sales, you can take the 1.7 billion of 2022 APA doses, and do estimates for: a) India b) EU doses above the minimum; and c) all new countries.
Conclusion: Strong buy, highly undervalued
The vaccine is selling for $20 to $21 to high-income countries, $3 to $6 to low-income countries and in the middle for middle-income countries. I think the average will be $11 to $12. But to be somewhat conservative, let's use $10. From there, I think pretty much all back-of-the-envelope calculations and complex valuation models that are reasonable result in a share price that's far higher than now. For example, 2.5 billion doses at $10 would be $25B in revenues. At a 60% margin, this would be $15B in 2022 earnings. At a 50% margin, it would be $12.5B in earnings. At a 40% margin, $10B in earnings.
If you cap EU doses at 50 million and estimate only 150 million for India and 100 million for the other countries, that plus the APA sales would be 2 billion doses. That times $10 is $20B in revenues. At a 60% margin, it would be $12B in 2022 earnings. At a 50% margin, $10B in earnings. At a 40% margin, $8B in earnings. Vaccine sales already increased its cash position from $100M in early 2020 to about $2B now.
Its valuation is now only $10.9B. So its cash at the end of 2022 should be close to the current market cap. You also need to factor in future Covid sales, Nanoflu sales and likely sales of its combination Covid-flu vaccine and its RSV vaccines. Also adjuvant revenues from the malaria vaccine that's launching in 1 1/2 years.
The 1 billion extra doses per year by SII are being bought on a contracted fee per dose basis, so Novavax keeps 100% of the profits. Even on the licensed doses, Novavax gets 50% of the profits with pretty much no expense or effort. In the numbers above, for simplicity sake I'm using the price countries are paying, then showing different levels of average profit margins for your consideration.
Novavax is keeping all profits on all sales to high-income countries except Japan and Korea. At a production cost of $2 to $4 depending on the location, and a sale price of $20.5, Novavax makes $16.5 to $18.5 per dose on those sales, with the exception of the US, which is paying $17.6 per dose. That's a gross profit margin of 80% to 90%. That covers a lot of expenses and gives a strong net margin.
Therefore, I think a net margin of 50% is reasonable, and my base case is them making $12.5B in earnings on sales of 2.5 billion doses at an average price of $10. If margins come in 5% to 10% lower than 50%, I think this could be offset by the average selling price possibly coming in 5% to 10% higher than $10, with the same total earnings.
The previously strongest flu vaccine, Fluzone, had $2.9B in flu revenues in 2020. As the strongest flu vaccine and with SII producing it at low cost and selling it worldwide, I forecast Nanoflu will have a third of the $9.5B 2027 market, which is $3.17B. Biotechs on average trade at a price to sales multiple of about 8. So Novavax's valuation on Nanoflu alone could be about $25.4B, more than double its current valuation. The cash from 2022 Covid earnings could add another $8B to $15B in valuation. Add in the value of future Covid sales. Related, a multivalent vaccine is increasingly likely to be needed, and I think Novavax would be the leader there because its technology is ideally suited for it. Add some value for likely future RSV sales.
I'm not even going to add all of the above up because the number would be so high it would look incredible. For now, I will simply maintain my price target of $442 because that's a high enough return for a very bullish outlook. Likewise, if you apply the same 2022 sales or earnings multiples to Novavax as Moderna or BionTech have, the share price would be between 300% and 800% higher than now.
Even if you add in no Covid sales past 2022, the Novavax valuation should be higher than now based on the cash they'll have by late December and their pipeline that is close to commercializing Nanoflu. Therefore, Novavax's large number of APAs plus pipeline gives it an excellent safety net. As investors start to figure that out, and as they realize that production is far more on track than they think, I think the stock price will go dramatically higher. I recommend being very overweight now so you can take some profits as it goes higher.
—–
APPENDIX
Overwrought fear is an opportunity to buy at a discount
In the price chart, something to be aware of is the first 11 peaks were followed by a higher peak within 6 months. Of the last 7 peaks, 5 were followed by higher peaks in less than 3 weeks. The other two (9/23 and 12/20) have not been followed by a higher peak yet, but it's only been 3 1/4 months and 2 weeks respectively since those two peaks. I expect by late February or March that the share will be higher than the late September peak of $260.69. From the current price of ~$145, that would be a gain of 80%. But even just returning to its last peak on December 20 of $236.5 would be a gain of 63%.
The repetitive fearful pullbacks and rebounds remind me of one of my favorite investing expressions: "Stocks are the only place in the world where when things go on sale, everybody runs out of the store." It's also why one of Warren Buffet's favorite expressions is: "Buy fear and sell greed."
The way the math works is that the gains on rebounds are higher than the drops on pullbacks. For example, if a stock drops 40% from $100 to $60, and then returns to $100, the increase is 66%. If a stock drops 50% from $100 to $50, and then returns to $100, the increase is 100%. The increase is double the drop. Notice how buying on large pullbacks gives outsized gains on rebounds.
To do this, though, you need to manage and overcome your own emotions. I think one of the most important lessons of Buffett is that "The most important quality for an investor is temperament, not intellect." You can have excellent information and intelligence, but if you sell when sentiment is negative and the market is fearful, you will lose out. The same is true if most people are bullish and a share price has increased massively, and instead of taking profits on some shares, you buy more. Thus, in order to accomplish the advice of "buy fear and sell greed," you need to manage your emotions via a strong temperament.
A big challenge of the Internet era is that many people are posting inaccurate information and illogical claims. So it's easy for your fearful side to find some stuff that justifies the fear and keeps you frozen. Another challenge is when people are feeling fear, many of them go onto various online forums and put their fears into writing. Seeing all of that during a pullback has an illusory effect of not just confirming your fear, but amplifying it. For these reasons, I think these days intellect is more important than it was 20 years ago. But I think temperament is still a little more important, so I recommend investors commit to getting better in that area.